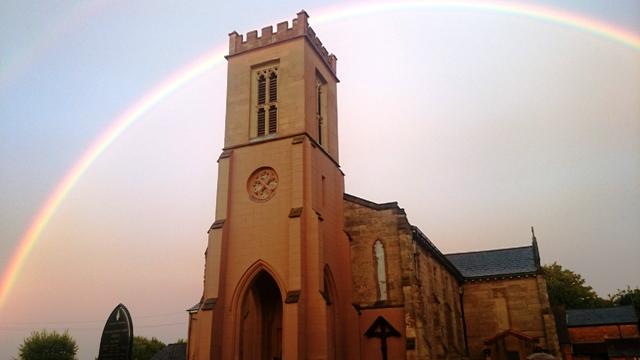 Just a reminder that the first Monday Mass in Redditch is this coming Monday. Numbers at this Mass are down partly due to
the two servers leaving to become seminarians
and another young member leaving for university, so your attendance would be appreciated if you have ever thought of attending. Directions are available on the parish website
here
.
The picture above comes from the
parish Twitter feed
, and was the sight that met our eyes after the consecration of the church by Archbishop Bernard Longley on 16th July last year. The
caption on the image on Twitter
quoted a very relevant piece of scripture:
God said to Noah "I set my rainbow in the clouds, it will be a sign of the covenant between me and the earth" Gen 9:13.
The Church was opened in 1848 and was originally served by the Benedictine monks of Downside and then Belmont before being taken over by the Archdiocese. The consecration of the church in this case means that the Archdiocese has officially taken charge of the church and the monks are not going to be returning.